12.10.2018 - New winner Drawn!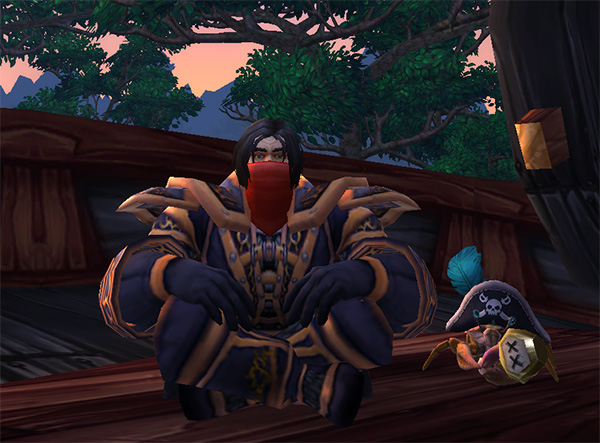 It turns out that Pantonia already got the little Crackers and was kind enough to pass on, thank you very much for the honesty and friendliness!

That means I was able to draw a new winner from all submissions, aaaaand the lucky one is:

Machiavelli#2856 with his trusty Captain Snips!

Yarrrr! Congratultions, please check your messages to collect your prize :-)
08.10.2018 - Winners announced!


So many great entries! Way too hard to pick among the cool, cute and piratey pics, so a random roll made the decision for me. And the winners are:

Franky651 with Captain Nibs
Pantonia with Brightpaw

Congratulations!
I will message you here on Xu-Fu, please respond to the message within the next 48 hours (until Wednesday 10/10) or I will have to select a new winner.

And a big thank you to everyone for participating, as well as to Blizzard for sponsoring the codes :-)
25.09.2018 - Cap'n Crackers Giveaway!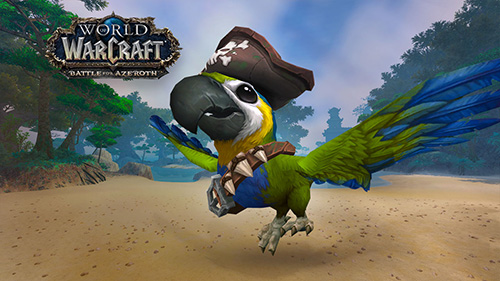 The Giveaway has concluded and no new entries will be accepted! Winners will be announced and contacted shortly. Thank you for participating!

All hands hoay! 'tis time to grab ye some bounty!

Cap'n Cracker be here t' find a new crewmate, 'n it could be ye! Sponsored by Blizzard Europe 'n up fer grabs are two shiny EU loot codes fer this colourful companion. But don't let his appearance fool ye, he's got a nasty beak. Figuratively speakin'.

All ye needs t' be doin' is put on yer finest freebooter clothes, strike a darin' pose next t' yer best loved companion, 'n make a screenshot! Post it here 'n ye got yourself a chance fer Cap'n Crackers unendin' loyalty.

Them Rules:

- The 2 pet codes only work for EU, sorry!
- You have to post with a Xu-Fu account. If you don't have one, top right to sign up, they are free :-)
- Your post must include a link to an image of your character with your favourite pet of choice. Pirate clothing optional but for extra style!
- You can post a picture until October 3rd. Shortly after, the 2 winners will be selected at random
- Winners are announced here and notified via direct message on Xu-Fu's. If someone doesn't claim their code, new winners will be selected.
- Only one entry per user, obviously :-)

Good luck and fair winds t' ye!
23.09.2018 - A few updates!


Hey :)

Thanks everyone for reaching out about volunteer positions! Still looking, so if you're interested, give me a shout on Discord.

Meanwhile, I have a few news to share around Xu-Fu:

1. A warm (re-) Welcome to the first three volunteers: Nyari, Remte and Morazor!

Nyari will work mostly as News Writer and Content Creator for the German version of the page and I will help develop some better tools to make localized versions of the page easier to navigate.

Remte has always been very active in posting advice and finding errors on the page and will now be a Strategy Curator.

Morazor is the author of Magpie and as such the role Content Creator can't be more fitting!


2. You now have the option to include the strategy steps within rematch strings! It is on by default, but you have a slider right below the Rematch button to turn that off, if you wish.


3. A shout out to all strategy creators: I will remove the option to modify tags. Unfortunately, the tags system has been used very inconsistently, and sometimes even to push new strategies to the top by adding every positive tag available without them being true. In the future, more tags will be automated (especially the "Reliable" one), and only strategy curators will have access to tags. In that light, I will also remove all custom tags that have been added so far.
Sorry for any confusion or inconvenience because of this!
19.09.2018 - Xu-Fu is looking for volunteers!


Hello!

With the addition of user-created-strategies, Xu-Fu has entered a new phase and is supporting more and more pet battlers out there in the world. Time to become a bit more structured and organised!
Volunteers have been a key part of Xu-Fu and I am both proud and grateful for the help I have received. Going forward, I want to make it a better experience for everyone involved, with a clearer role description, better access rights and more decision power for those who help with the project.

Here is what I need to make Xu-Fu even better:

News Writer (1-2)
Are you always up to date with everything pet related that's going on? Would you like to moderate the News section of one of the most visited pet battling pages worldwide? Get in touch, I would love to hand over the News to someone who is eager to share news and updates on the pet battling world!
You'll have access to my own article editor and it will be your decision what to post and when to post. And if you need any new tools, I am more than happy to add what you need!

Content Creator

As a Content Creator, you own a section of the page containing your favourite topic. Are you a mad pet PvP mastermind who wants to share your insights? Do you love the funny interactions pets do and want to write about it? Or maybe you created a tool that you want to host somewhere and Xu-Fu's might be a good place? Let me know, let's discuss, and if we agree on it, you'll get your own section with full editing rights and my support if you need any custom features coded.

Strategy Curator (1-2)
Every day new strategies are added to Xu-Fu's. As a strategy curator, you will be the checks and balances. That does not mean going through each and every strategy to test it, but to have an eye on trends, to identify the very best ones and flagging them as staff picks. It could also mean reaching out to strategy creators who made mistakes and asking them if they want to fix that, or worst case, removing it from the page. This role comes with full editing rights for all strategies on Xu-Fu.

Translator
Many parts of the page are being auto-translated already, but there are some gaps and some languages are not covered at all. If you visit Xu-Fu in your native language and want to help fill those gaps, please get in touch! The same languages as World of Warcraft are supported: German, French, Spanish, Italian, Polish, Russian, Portuguese, Korean and Chinese (simplified).

Any of this sounds good to you? Please send me a private message on Discord (Aranesh#6150) and let's talk!